FINE ART &  MA CONTEMPORARY CRAFT ART
I am exploring the roles that culture, tradition and particularly religions have had in the development of women and their role in Society.
Today Days in our Society in 21st Century women get the strongest position ever in history. We are fully in power to control our body. Women…Whatever the women wants her role to be…to be more strong, logical, educated and independent.
Contraception and abortion is women's rights to be; unfortunately still not in every Country on the World…Thus traditional moral code overpower our human rights.
>>LINK<<INSTAGRAM
I focus on human rights; especially women's, related to knowledge of the 'Freedom' of our minds and the influential part of tradition, culture and religion.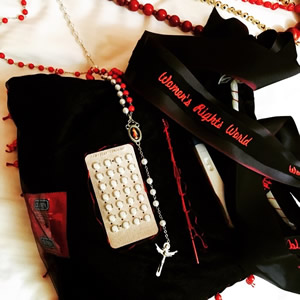 INSPIRATION WORK OF WOMEN'S RIGHTS WORLD:
On 23rd September 2016 Polish Parliament voted for STOP Abortion's proposal to be scrutinised by a parliamentary committee. It was drafted by a hardline conservative advocacy group and submitted as a 'citizens initiative' after collecting over 100 000 signatures.
"On 3rd October 2016 thousands of Polish women in big cities and smaller towns went to streets to protest against violating their reproductive rights.
Over 25 000 demonstrators in Warsaw took leave from work, school and university to block the streets and shout their anger."
>>LINK<<03-10-2016 #BlackMonday in Warsaw, Poland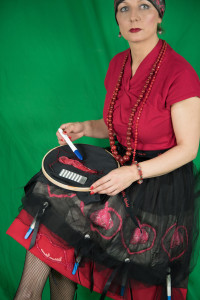 Poland has one of the most restrictive anti-abortion laws in Europe.
Pregnancy terminations are legally permitted when:
1. woman's life or health is endangered
2. the pregnancy is a result of a criminal act
3. the foetus is seriously malformed
>>LINK<< protest against planned abortion ban in Poland 2016
>>LINK<< Craftivist Costumes: Contraception and Abortion.pdf 2018
>>LINK<< Coming soon, Craftiest Costume documentary (video)
Contraception and abortion is women's right to be: textile used as a political symbols.
Women's Rights World Performance and Costume Construction Design.
Textile with contraception pills, condoms, pregnancy testers and digital print on silk and linen.