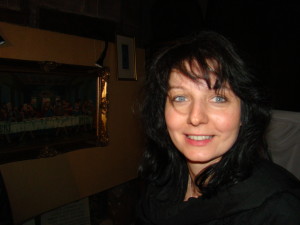 PROFILE
Eliza Glapinska is an installation artist whose work explores the issue of freedom in our lifetime. She has developed this from the cultural, traditional and religious codes of the past, realisation of broken human rights, and changes in morality. Her first solo exhibition, held at St. Julian's Church, Shrewsbury 2010, was a multi-media performance installation based on her own essay Women of The Past Today. The audience was invited into the installation. Since this time she has worked in Textiles, continued self-development as a Fine Artist, advanced in the use of a wide variety of spaces and recording songs for each piece of artwork, with the collaboration of singer and songwriter, Halina Garlacz.
In addition Glapinska's work was presented at St. Mary's Church, Shrewsbury in 2012, Hereford College of Arts in 2013 and 2015. Glapinska's mixed-media-artwork installations challenge her audience's traditional perspectives by integrating into the artwork their participation and remarks on the art-space-atmosphere. In recent years she has produced several important installations: Wedding & Funeral, Celebration Stories & Passions of Life, Freedom & Overcoming Our Barriers 1,2 and 3; Freedom of Broken Minds, with the context of 'Raped Freedom', mostly as a solo exhibition. She develops and involves her audience in her work, to form an integration of their own cultural, traditional and religious reality in connection with human rights between different cultures in our world of open borders.
ARTIST'S STATEMENT
I believe that unique artwork comes from the power of intuition, emotion, life experience and passion. It is like a spirit within your heart and mind, the path to the unknown. My inspiration is drawn from true stories of people's broken pasts or present, and the challenges of the reality in our 'Morality'. My practice is a process of developing projects, including many experimental installation exhibitions in 'chosen spaces', and interactions with the audience, complemented by songs. The contribution of the public to my artwork is encouraged by provoking a reaction leading to self-examination. I focus on human rights; especially women's, related to knowledge of the 'Freedom' of our minds and the influential part of tradition, culture and religion. Often we do not possess real freedom because of our barriers, attitudes, education and finally our birth certificate, which we have no choice about. Thus traditional moral codes overpower our human rights.