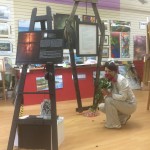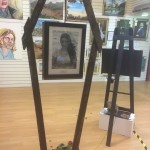 The Vision Gallery *** This Sat the 22nd at 12noon we are having our very first Art Installation presentation by our new Polish artist Eliza Glapinska describing her latest work titled 'Wedding – Funeral' – 'Freedom of Broken Minds'.
Eliza has had other installation shows in Hereford Uni, (where she is a graduate) the V.A.N Gallery- market hall and in various Churches around Shropshire.
The gallery on the middle level by M&S near the stairwell, was initially a 6 week show, that was 2 years ago, and still going strong.
** PLEASE COME ALONG IF YOU CAN!!***
There has been so much interest, and future plans are for more varied artistic expressions from a variety of up-coming artists, continually showing the best of Shropshire Artists.
Eliza's Installation till 10th Sept.
Gallery is open 10-4.15 Tues – Sat (Sat till 5pm)
For more info: www.elizaglapinska.com and www.mikesartschool.co.uk