Celebration Stories & Passions of Life 
For this work I presented a sculpture of a Hermaphrodite named Cameron. The sculpture, which was 1-metre high was set up on a mirror and half-covered with fabric cloak. Strings of blue lights, beads, silks, wool and thread were stitched into the cloak, which was painted with acrylics, oil bar, silk liner and silk dye. The design was inspired by the deepness and mystery of universe and the ocean. It also represented a line from my poem Feeling, Emotion of Fear in The Eyes of The Truth. In addition it was intended to include a song: An Outcast. The sculpture represented a   male and female human being, full of sorrow and waiting 'to   be accepted' by society which is not prepared for it.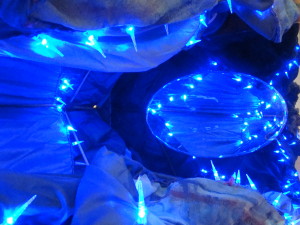 Poem:
'Unknown Ways of Mind, The Fear of Discovery
and Truth…
Courage in Discovery of the Truth!
Danger of Discovery and Risk of Living in Fear.
Celebrations Unknown Us.
Feelinf, Emotion of Fear in Eyes of the Truth.
The Pain of Celebration for the Time of Celebration..
Openness of Mind for Unknown Universe Deep Space and
New Light.
People and the Other.
The Courage to Take the Risk Beyond the Mind.
Truth and Celebrations.
Hermaphrodites
Cameron
And Others.'
By Eliza Glapinska
An Outcast by H. Garlacz & E. Glapinska
Listen to the song on YouTube